Register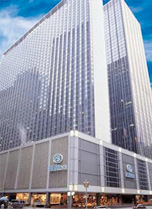 The 31st AVIDsymposium will be held on Friday, February 26, through Saturday, February 27, 2021 at the New York Hilton-Midtown in New York City.

Registration Type

Tuition Cost

Vascular Technologists, Sonographers, Residents and Nurses:

$475.00

Medical and Ultrasound Students (Friday - Saturday):


(Letter of verification from Dean is required and must be faxed to
888-418-7043.)

$175.00

Physicians:

$650.00

Combined AVIDsymposium and VEITHsymposium (Tuesday - Saturday):

$1,899.00

Nurse Practitioners and Physician Assistants (non-physician, clinician):

$550.00

All Others:

$650.00
Companies exhibiting at the meeting must use the Industry Registration Form to register their representatives. Please visit the Exhibit page to download a copy of this form.
Refund Policy: There is a $95 cancellation fee if canceled in writing by February 5, 2021. No refunds will be made thereafter. However, if circumstances beyond our control, including, but not limited to: acts of God, governmental authority, declared war in the United States, terrorist attacks in the city in which the Conference venue is located in, curtailment of transportation either in the Conference City or in the countries/states of origin of the attendees, that prevents the conference from taking place, or other circumstances beyond our reasonable control which would make it illegal or impossible for AVIDsymposium, the Cleveland Clinic or the New York Hilton Midtown to hold the Conference, a full refund will be issued.
---
---
Registration
PLEASE NOTE THAT REGISTRATION BY PHONE WILL CLOSE ON WEDNESDAY, FEBRUARY 17, 2021. ONLINE REGISTRATION WILL REMAIN OPEN.
EARLY REGISTRATION, ONSITE/WALK-IN REGISTRATION
(New York Hilton-Midtown, Rhinelander Gallery, 2nd Floor)
Thursday, February 25th - 2:00 P.M. - 6:00 P.M.
Friday, February 26th - Saturday, February 27th - 6:00 A.M. - 4:00 P.M.
GENERAL SESSIONS
General Sessions will be held in the Murray Hill Suites East and West, 2nd floor of the New York Hilton Midtown, 1335 Avenue of the Americas, New York, NY 10019.
Accreditation Statement
This activity has been approved for AMA PRA Category 1 CreditsTM.
For ARDMS and CCI Credentialed Sonographers/Technologists
For Vascular Technologists and Sonographers, Continuing Medical Education credit hours are available on an hour-for-hour basis and may be used to fulfill the continuing medical education requirements necessary to retain certification with the American Registry for Diagnostic Medical Sonography (ARDMS) and for accreditation with the Intersocietal Accreditation Commission (IAC).
CME Certificates and Course Evaluation Forms
Your CME certificate will be available online at www.AVIDsymposium.org. An e-mail will be sent to all registered attendees within two weeks after the meeting with a unique password and instructions on how to obtain the certificate and complete a brief, optional course evaluation. CME Certificates must be claimed by May 31, 2021. Please note that the e-mail will be sent to the e-mail address that is used to register the attendee.
Faculty Disclosure
The Cleveland Clinic Foundation Center for Continuing Education has implemented a policy to comply with the current Accreditation Council for Continuing Medical Education Standards for Commercial Support requiring resolution of all faculty conflicts of interest. Faculty declaring a relevant commercial interest will be identified in the activity syllabus.
Online Access to Abstracts
Presentation slides will be used as abstracts and will be available on the program page of the AVIDsymposium website at www.AVIDsymposium.org after the meeting. Abstracts will be available on the website for one full year.
ADA Statement
The Cleveland Clinic Foundation Center for Continuing Education complies with the legal requirements of the Americans with Disability Act. If any participant of the AVIDsymposium requires special assistance, please send written request to AVIDsymposium by e-mail to admin@avidsymposium.org, or by fax to (845) 368-2324, at least one month prior to the activity.
For further information about registration contact: registrar@avidsymposium.org